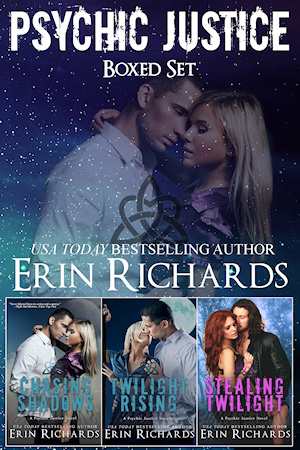 Psychic Justice
Boxed Set
Capture the romance and suspense of the first three books of the Psychic Justice series in one omnibus edition.
Chasing Shadows -- Danger and romance collide when psychic Juliana Westwood and detective Alex MacKenzie confront the past as they hunt the psychopath who kidnapped Alex's niece…before the kidnapper destroys the only woman Alex has ever loved.
Twilight Rising -- After Juliana decides to join the Psychic Guild, she foresees a murder. Someone's threatening Guild psychics…urging her to investigate from her telepathic mind. But Alex is jealous of Guild PI Jake McAllister who's developed a telepathic connection to Juliana…battling Alex's ability to protect her from forces growing out of control.
Stealing Twilight -- Repressed clairvoyant Lily Falbrooke is called home after the death of her father. When she digs into his affairs, she discovers everything she knows about herself is a lie. With her guard up, she's confronted at every turn with sexy private investigator and telepath Jake McAllister. As she exposes deadly secrets and lies, it's Jake's betrayal that may ultimately destroy her.