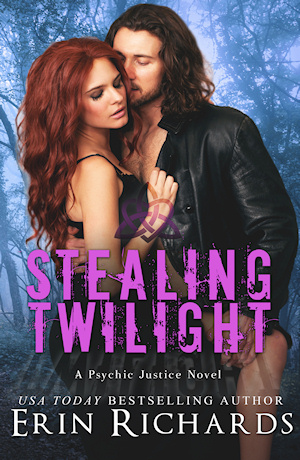 Stealing Twilight
Psychic Justice Book 3
Tragedies. Lies. Deception. A world she cannot escape.
Repressed and defeated clairvoyant, Lily Falbrooke, returns home after yet another tragedy hits too close to home. Digging into her family's affairs to uncover her father's mysterious death, Lily discovers what she's felt all along: her life is not her own. Now it's up to her to channel her dormant psychic powers to uncover the truth about her herself. But the deeper she delves, the more secrets and lies she exposes while danger unfolds around her.
A guardian. A telepath. An undeniable attraction. His ultimate betrayal.
Sexy private investigator, Jake McAllister, sets out to aide Lily in her quest for answers and salvation. Neither can resist the invisible bonds forcing them together as they stumble into love. But with her guard up and fearing her history, Lily worries the past will come back to haunt her. As the two piece together the puzzle of her mysterious background, Jake commits the ultimate betrayal—a betrayal that endangers his life and just might leave Lily broken . . . for good.