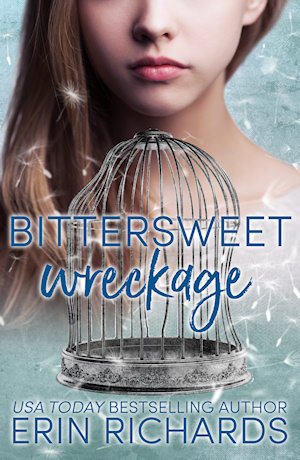 Bittersweet Wreckage
Young Adult Contemporary
Her dad wasn't supposed to die.
He wasn't supposed to have a second family, and her mom wasn't supposed to slip into a prescription drug haze.
And she definitely wasn't supposed to kiss her new "half-brother."
Ivy Lynwood has spent her life under the oppressive thumb of her abusive father. When the impossible happens, and he's found dead in a boat fire, Ivy thinks her life may finally be turning around. But her newfound freedom is short-lived; just as she and her mother start to move on, they learn that Ivy's father had a second family—whose mother also died in the boat fire.
Child Services asks Ivy's mother to take in the orphaned teenagers, and her life spirals even further out of control. Her mother disappears into a drugged la-la land, leaving Ivy to clean up the pieces… while clues of her mother's guilt in the fire stack up. And for the first time, Ivy falls in love… with the son of her father's dead mistress. Even though Ivy and Jesse are unrelated, he's off limits when he moves in with the Lynwoods. Ivy knows she'll never have the normal family she dreamed of—but can she manage to turn the wreck of her life into any family at all?