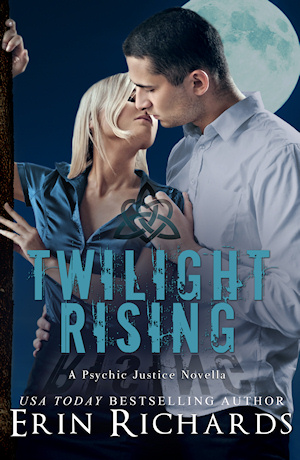 Twilight Rising
Psychic Justice Book 2 (novella)
After Juliana Westwood decides to join the Psychic Guild, she dreams of a murder and butts heads with them as they investigate...and warn her to stay away. Someone's threatening Guild psychics, fueling her detective fiancé's dislike of the exclusive club and urging her to investigate from the depths of her mind.
Detective Alex MacKenzie's jealous of Guild PI Jake McAllister who's developed a telepathic connection to Juliana, battling Alex's ability to protect her. But Jake has enigma Lily Falbrooke on his mind when she returns home to attend her father's funeral...and receives a cryptic message from the grave from Juliana. Will Alex ever accept the Guild in Juliana's life? Or will her psychic talents destroy their hard won relationship.

The novella, TWILIGHT RISING, gives CHASING SHADOWS readers a glimpse of Juliana and Alex a few weeks after the events of CHASING SHADOWS and sets the stage for Jake and Lily's story in STEALING TWILIGHT, the next book in the Psychic Justice series.