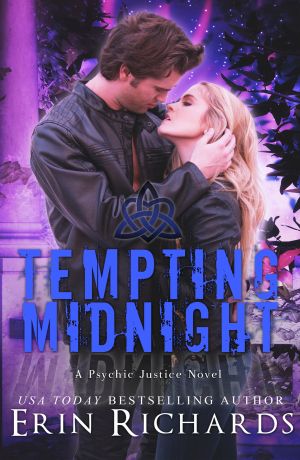 TEMPTING MIDNIGHT
Psychic Justice Book 5

Get your psychic on! Don't miss the explosive finale to the Psychic Justice series.

Her greatest love belongs in her past. Good thing she's over him...right?
Seven years ago, Detective Eva Midnight broke her own heart and left her boyfriend behind. She feared a relationship with a psychic who sensed her every emotion was doomed. Now returning to California, Eva knows she must right her wrongs, considering every time she looks at their son Connor—the son Liam doesn't know about—reminds her of what she threw away. When Connor's kidnapped by her ex-husband, head of the mafia, fate throws her second chance in her path.

He doesn't believe in second chances…until she returns.
Even though Eva has haunted his dreams, Liam McAllister can't refuse the Psychic Guild assignment to find her psychic son. Screw reconciliation when she blindsides him with the truth about Connor. Now Liam will do anything to save his son from deadly mafia plans. But every moment with Eva is sheer temptation. Will Eva and Liam get a chance to explore the undeniable passion between them, or face the fears that drove them apart? Because nobody fights the mafia and lives.