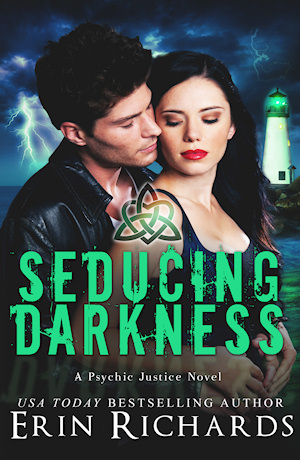 Seducing Darkness
Psychic Justice Book 4
Avoiding him should be easy with her strict dating rules.
Mind reader and Psychic Guild lawyer, Marisa Meadows, adheres to her Guild Girl Code by not dating Guardians. But she's drawn to Guild Guardian Ric McAllister's handsome charm ... especially when their psychic minds dangerously connect. It's not easy to keep Ric at arm's length when she needs his help to eliminate the evil tormenting her.
One madman. One Guardian. And the fight for the woman who tempts them both.
After Ric has a deadly clairvoyant vision of Marisa burning down a house, he's determined to prove her innocence. Yet his visions are seldom wrong, and as the clues pile up, Marisa's guilt escalates. Every moment in her presence is pure temptation, and Ric fears it won't be long before he surrenders to her darkness. Soon it's hard to tell whether their greatest threat is from the darkness seducing them, a sinister mastermind playing games, or the passion leading them toward destruction.