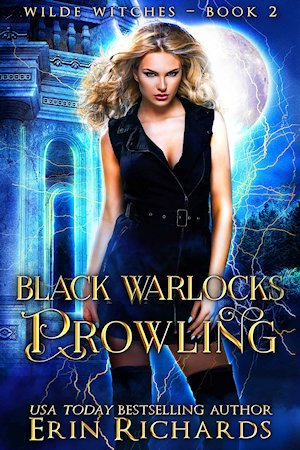 Black Warlocks Prowling
Wilde Witches - Book 2
A formidable and coveted witch.

Coven leader Sage Wilde's ready to commit to sexy warlock Rafael Reyes… until powerful black warlock Ethan Ravenwood offers an enticing alliance. When threats to both covens end their peaceful existence, Sage must consider Ravenwood's indecent proposal… despite Rafael's threat to walk.

Two power-hungry, desirable warlocks.

Rafael yearns to use all Sage's magic, but she dribbles it to him, typical of modern witches ruling powerless warlocks. He figures if they marry, she'll open the floodgates to her magic. But when supposedly extinct black warlocks, who possess their own magic, upend their life, all bets are off, especially when Ravenwood craves Sage as his own.

The cost extracted from Sage and Rafael may end them.

The Wilde Coven is attacked, and Sage needs the Ravenwoods to prevent another witches and warlocks war. When the unthinkable happens, Sage's life flips upside down, and fierce new magic emerges. Is it enough magic to prevent a war and put Ravenwood's offer on ice? Will Sage and Rafael have a future together when they pick up the pieces… if Rafael lives?